First Aid International Conducts Successful One-Day Basic First Aid Training at CrossFit Kampala
Posted by

Date

October 21, 2023

Comments

0 comment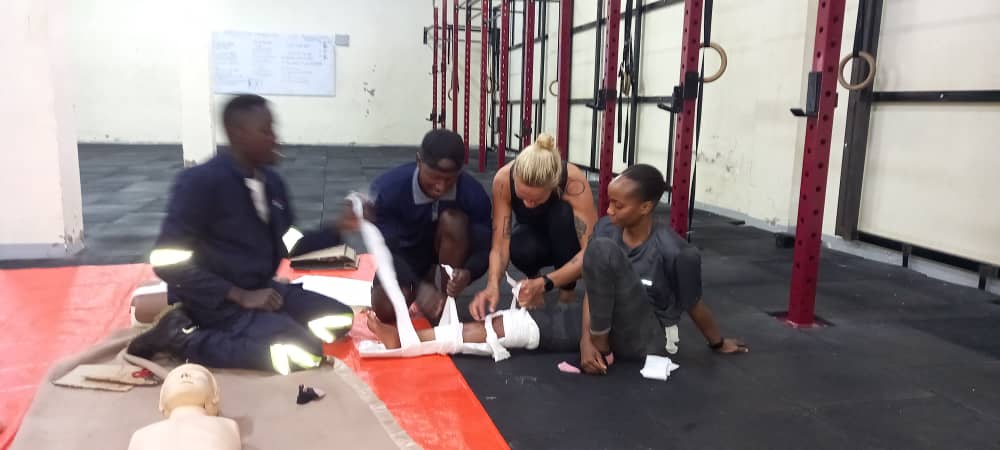 In a proactive move towards ensuring the safety and well-being of its staff, CrossFit Kampala recently partnered with First Aid International to organize a comprehensive one-day First Aid training session. Held on October 21, 2023, in the boardroom of CrossFit Kampala, the event was aimed at equipping the staff with essential life-saving skills and knowledge.
The one-day First Aid training was conducted by First Aid International, a renowned organization specializing in providing high-quality and practical first aid education. The training covered a wide range of topics, including basic life support, wound care, CPR, and emergency response strategies. The curriculum was tailored to meet the specific needs of the CrossFit environment, ensuring that participants gained skills relevant to the challenges they might encounter in their daily roles.
A total of nine staff members from CrossFit Kampala actively participated in the training. The diverse group included trainers, administrative staff, and support personnel, all eager to enhance their ability to respond effectively to emergencies.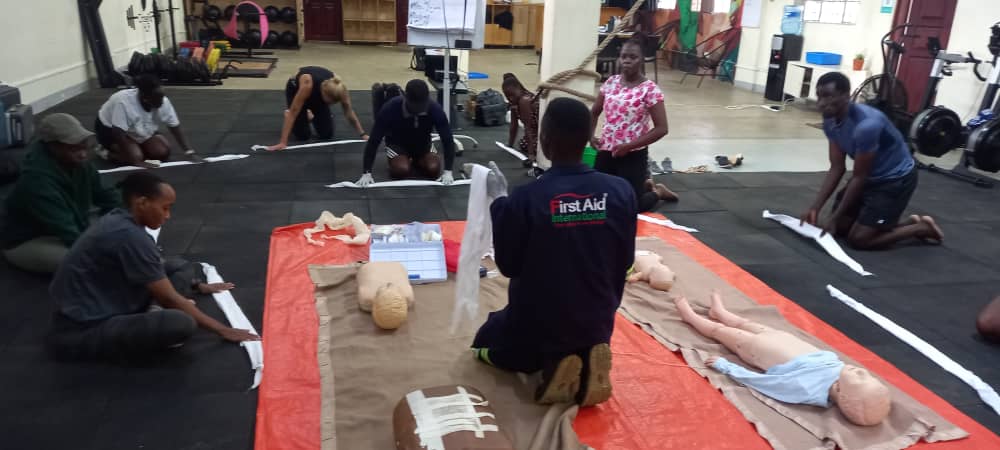 One notable aspect of the training session was the efficient time management by all participants. The sessions commenced promptly at 1:10 PM, and each module was delivered with precision, allowing for a comprehensive coverage of the curriculum. Despite the intensity of the material, the engaged participants absorbed the information effectively, actively participating in hands-on exercises and scenario-based simulations.
The training concluded successfully at approximately 4:30 PM, with participants expressing gratitude for the valuable insights gained during the session. The interactive nature of the training facilitated a collaborative learning environment, allowing participants to practice the skills they learned and receive immediate feedback from the experienced trainers of First Aid International.
Feedback from the participants was overwhelmingly positive, with many expressing newfound confidence in their ability to respond to emergencies. The practical approach of the training, coupled with real-world scenarios tailored to the CrossFit setting, resonated well with the diverse group of staff members.
The First Aid training conducted by First Aid International at CrossFit Kampala serves as a model for other organizations seeking to prioritize the safety of their staff. As emergencies can arise in any setting, the importance of first aid training cannot be overstated. CrossFit Kampala's commitment to equipping its staff with life-saving skills reflects a proactive approach to ensuring a safe and secure environment for both employees and clients.
In conclusion, the one-day First Aid training organized by First Aid International at CrossFit Kampala stands as a testament to the commitment of both organizations to the safety and well-being of the staff. The success of the training session highlights the positive impact of investing in practical and tailored first aid education, fostering a culture of preparedness and responsiveness within the workplace.