First Aid International Conducts Successful Fire Marshal Training at Rwenzori Rare Metals Ltd
Posted by

Date

October 8, 2023

Comments

0 comment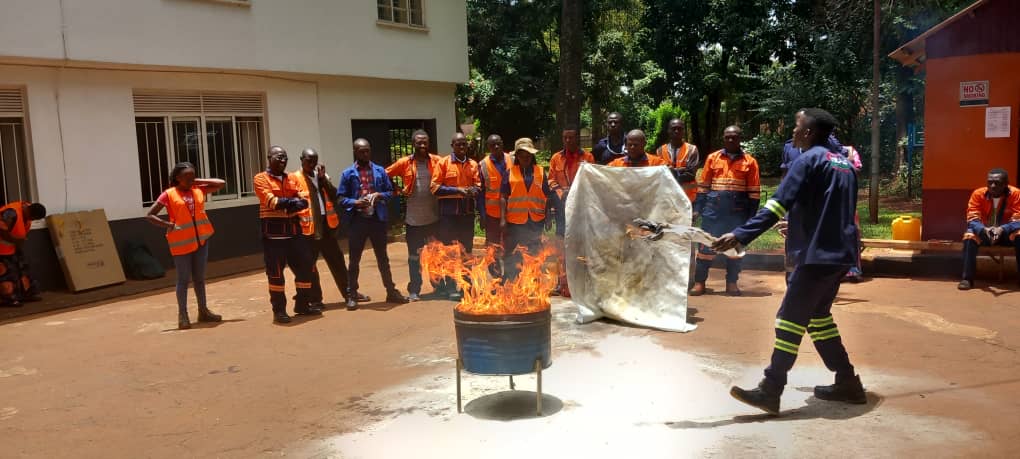 Rwenzori Rare Metals Ltd, located in Jinja-Office, recently experienced a comprehensive one-day Fire Marshal training session conducted by First Aid International. The training, held on October 8, 2023, was a significant initiative to enhance the safety and preparedness of the company's staff in case of fire emergencies.
A total of 45 staff members from various departments participated in the training, reflecting the company's commitment to ensuring a safe working environment for its employees. The program aimed to equip the participants with essential knowledge and skills required to handle fire emergencies effectively.
The training session commenced at 9:00 am and was officially opened by Mr. Moses Arupei, the Health & Safety Officer at Rwenzori Rare Metals Ltd. Mr. Arupei Moses, in his opening remarks, emphasized the critical importance of fire safety and the company's dedication to ensuring the well-being of its workforce. His leadership and commitment set the tone for a day of informative and engaging training.
One noteworthy aspect of the training was the utilization of a participatory approach, emphasizing hands-on learning and interaction among participants. This approach proved to be highly effective in fostering a dynamic learning environment, allowing staff members to actively engage with the material and each other.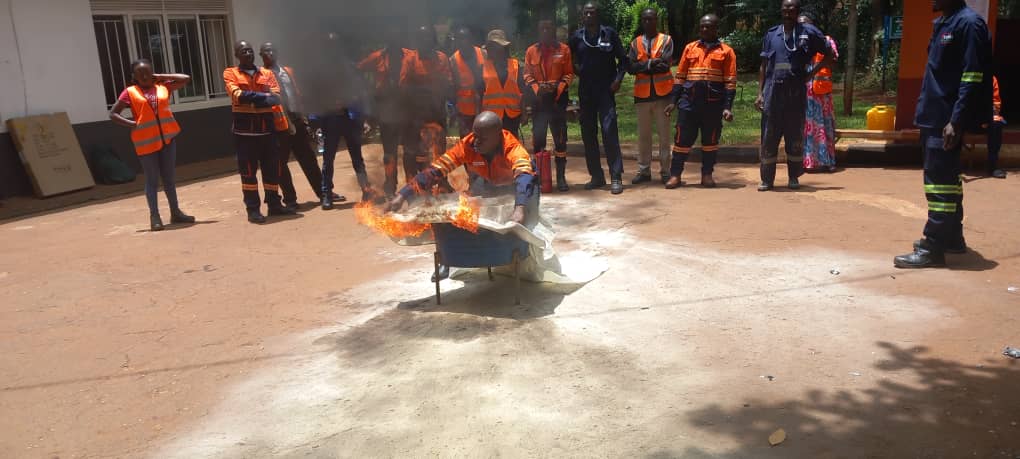 Throughout the day, participants were exposed to a range of topics, including fire prevention strategies, the proper use of fire extinguishers, evacuation procedures, and first aid in the event of fire-related injuries. Practical exercises, simulations, and group discussions were integrated into the program, ensuring that participants could apply their newfound knowledge in realistic scenarios.
The trainers from First Aid International demonstrated a high level of expertise, combining theoretical concepts with practical demonstrations to enhance the learning experience. Participants had the opportunity to operate fire extinguishers, practice emergency evacuation procedures, and develop a deeper understanding of fire safety protocols.
Feedback from the participants was overwhelmingly positive, with many expressing gratitude for the hands-on nature of the training. The participatory approach not only made the session more enjoyable but also contributed to a more profound retention of the information provided.
The event served as a testament to Rwenzori Rare Metals Ltd's commitment to maintaining a safe and secure workplace for its employees.
In summary, the Fire Marshal training conducted by First Aid International at Rwenzori Rare Metals Ltd on October 8, 2023, was a resounding success. The participatory approach, combined with the leadership of Mr. Moses Aupei, ensured that the staff members gained valuable insights and skills to enhance the overall safety culture within the organization.