First Aid International Conducts Successful First Aid Training for SAEMS Engineering Ltd Staff
Posted by

Date

August 24, 2023

Comments

0 comment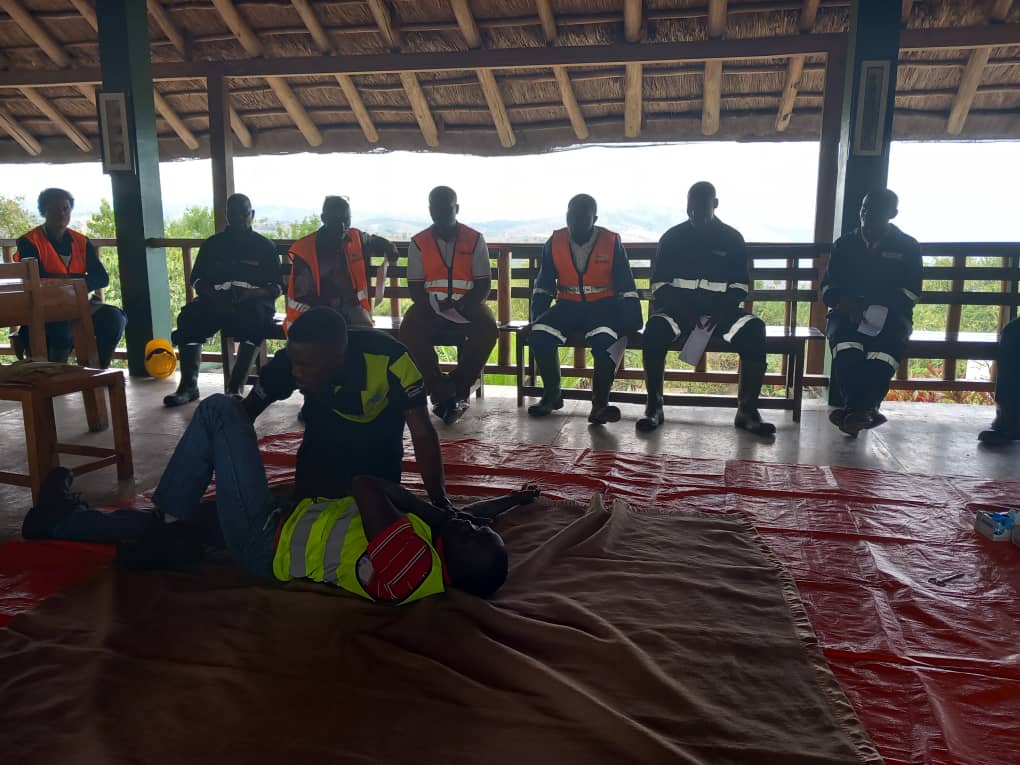 In a commendable effort to prioritize the safety and well-being of its workforce, SAEMS Engineering Ltd partnered with First Aid International to conduct a comprehensive First Aid training program for its staff. The training, held on the 24th of August, 2023, saw 15 enthusiastic employees actively participate in the session, equipping themselves with essential life-saving skills.
The training kicked off at 9:30 am with introductory remarks from Mr. Tumukunde Reagan, the esteemed Safety Officer at the plant. Mr. Reagan emphasized the critical importance of First Aid in the workplace, underscoring its potential to save lives and prevent further injuries during emergencies. His passionate address set the tone for a day dedicated to empowering the SAEMS Engineering Ltd staff with invaluable knowledge and skills.
The 45 staff members present at the training engaged in a series of hands-on activities and theoretical sessions led by First Aid International instructors. The program covered a wide range of topics, including basic life support, wound care, CPR, and emergency response procedures. The instructors ensured that the content was tailored to the specific needs and potential hazards faced by SAEMS Engineering Ltd employees, making the training not only informative but also highly relevant to their work environment.
The interactive nature of the training fostered a dynamic learning environment, encouraging participants to ask questions, share experiences, and actively participate in various simulations. This approach helped the staff members grasp the practical aspects of First Aid, empowering them to respond effectively to real-life situations.
Mr. Tumukunde Reagan reiterated the broader significance of First Aid skills beyond the workplace, emphasizing that the training would prove beneficial in various everyday scenarios. Whether at home, in public spaces, or during travel, the staff members were now equipped with the knowledge and confidence to act promptly and effectively in emergency situations.
The commitment of both SAEMS Engineering Ltd and First Aid International to the safety and well-being of the workforce was evident throughout the training session. The collaboration between the two entities showcased a shared vision of creating a safer work environment and empowering individuals with life-saving skills that extend beyond the confines of the workplace.
As the training concluded, the 15 newly trained staff members expressed gratitude for the opportunity to enhance their First Aid knowledge. They left the session with a sense of empowerment, knowing that they were now better prepared to handle emergencies and contribute to a safer workplace.
SAEMS Engineering Ltd's investment in First Aid training reflects a proactive approach to employee safety and well-being, setting a commendable example for other organizations to follow. The partnership with First Aid International exemplifies the importance of specialized training programs tailored to the unique needs of each workplace, ensuring that employees are equipped with the skills necessary to respond effectively in times of crisis.