First Aid International Conducts Successful One-Day First Aid Training for ENGSOL Bugolobi Office Staff
Posted by

Date

August 25, 2023

Comments

0 comment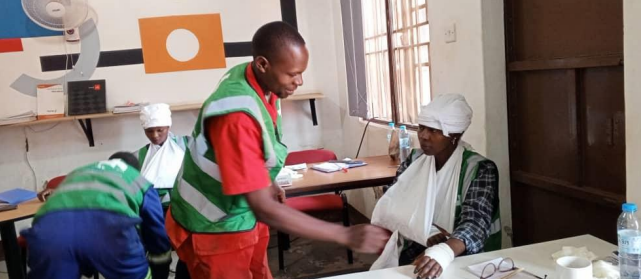 In a proactive effort to enhance workplace safety and emergency response capabilities, First Aid International recently conducted a comprehensive one-day first aid training session for the staff of ENGSOL at their Bugolobi Office on August 25th, 2023. The training aimed to equip employees with essential life-saving skills, ensuring a safer working environment.
A total of six ENGSOL Bugolobi Office staff members participated in the training, which commenced with introductory remarks from Ms. Nannyondo Annet, the Safety & Compliance Officer at ENGSOL. Ms. Nannyondo emphasized the importance of first aid training in fostering a culture of safety within the workplace.
To gauge the existing knowledge base of the participants, a pre-test knowledge assessment was administered. The 20-minute assessment took place between 10:30 and 10:50 am, allowing trainers to tailor the program to the specific needs of the group. This approach ensured that the training content was relevant and focused on addressing any knowledge gaps.
The training session was conducted using a variety of instructional materials to engage participants and facilitate effective learning. Audiovisual aids, including instructional videos and presentations, were utilized to enhance understanding. Physical equipment, such as first aid kits, mannequins, and other practical tools, were also provided to give participants hands-on experience.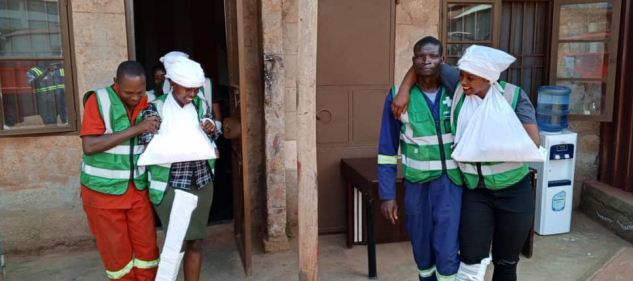 Sundries, including reference materials, handouts, and other supplementary resources, were distributed to the trainees for future reference. This holistic approach aimed to ensure that participants not only absorbed theoretical knowledge but also gained practical skills that could be applied in real-life emergency situations.
A baseline evaluation of the trainees was conducted using the pre-knowledge assessment approach. This evaluation helped trainers identify individual strengths and areas that required more attention during the training. By understanding the baseline knowledge of the participants, First Aid International could tailor the program to meet the specific needs of the ENGSOL Bugolobi Office staff.
First Aid International's one-day training for ENGSOL Bugolobi Office staff on August 25th, 2023, was a resounding success. The initiative showcased the commitment of both organizations to fostering a safe and secure working environment. By equipping employees with first aid skills, ENGSOL and First Aid International contribute to a workplace culture that prioritizes safety, preparedness, and the well-being of its staff.